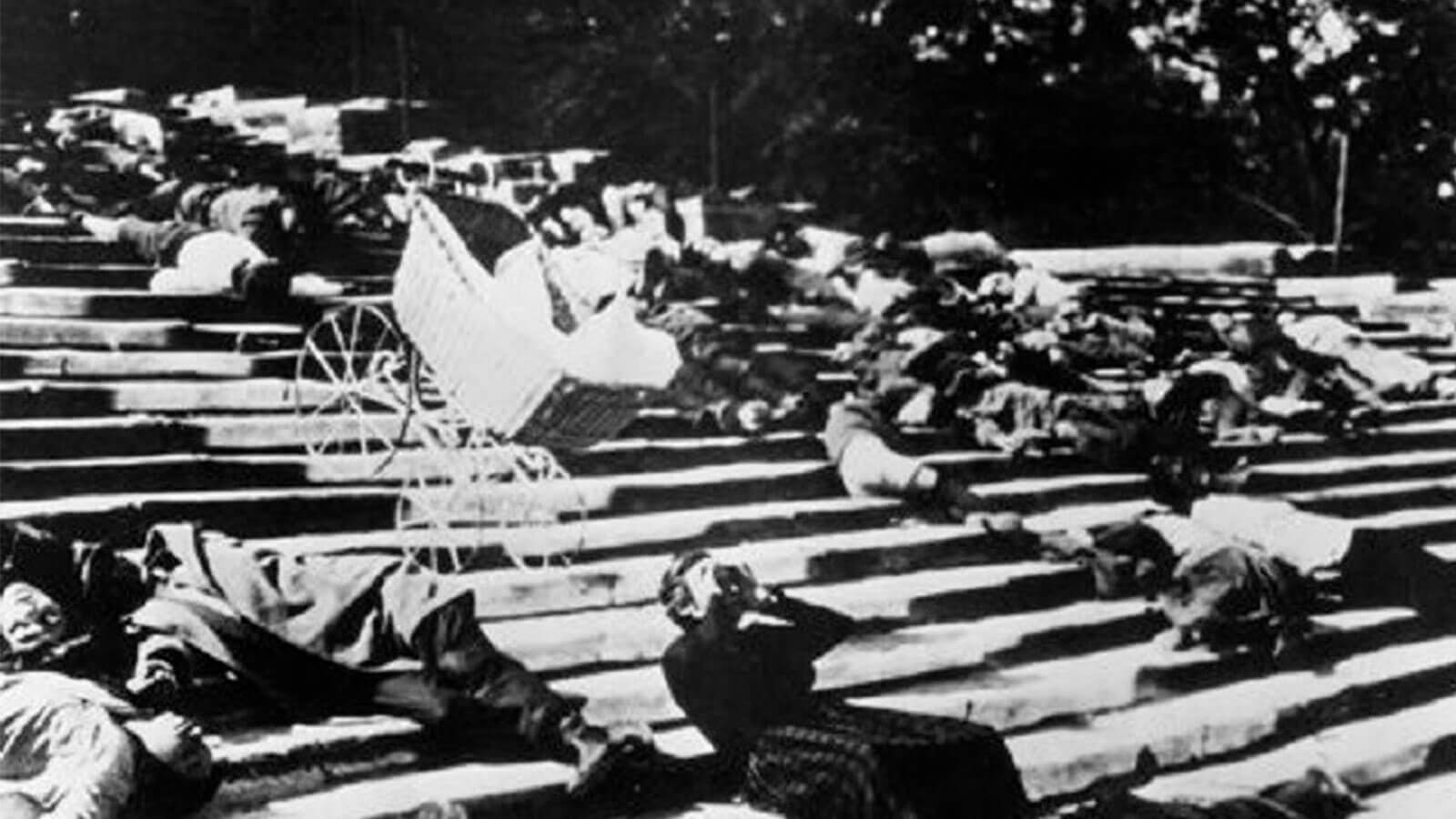 A classic of the silent screen is Battleship Potemkin (1925), whose most famous sequence takes place on a monumental open staircase: the Odessa staircase, stage of a massacre of civilians perpetrated by the Tsar's soldiers. Although this massacre never actually occurred during the Russian revolution of 1905, the director Sergei Eisenstein (1898-1848) uses it to highlight the brutality of the tsarist regime, until the big scene: a mother pushing an infant in a baby carriage falls to the ground dying and the carriage rolls down the steps.

The sequence became very popular in Italy thanks to The Second Tragic Fantozzi, a comedy film released in 1976 and directed by Luciano Salce. The accountant Fantozzi and his office colleagues are forced by their boss Maria Guidobaldo Riccardelli, a fan of art films, to see every Saturday night masterpieces such as Dies Irae by Carl Theodor Dreyer, Man of Aran by Robert J. Flaherty and above all Battleship Kotiomkin by Serghei M. Einstein (clear parody of the Eisenstein's movie). During yet another projection, Fantozzi finds the courage to express his view and, in front of all his equally exasperated colleagues, shouts: "For me… Battleship Kotiomkin… is a crazy shit!"
Needless to say, the revolt will be repressed harshly. In order to remedy the destruction of Battleship Kotiomkin, Riccardelli will force his employees to reenact its main scene. As for Fantozzi, he will have to play the most painful and degrading role: the baby in the carriage rolling down the steps.
To be continued…
---
Executive Stairs
As a leading company in the decor sector, Executive Stairs supplies luxury staircases, providing ad hoc solutions to customers. Our design concept is an ideal blend of professional performances and client wishes: an original Italian point of view in the field of interior design.
Our watchwords: imagination, creativity, competence and passion.